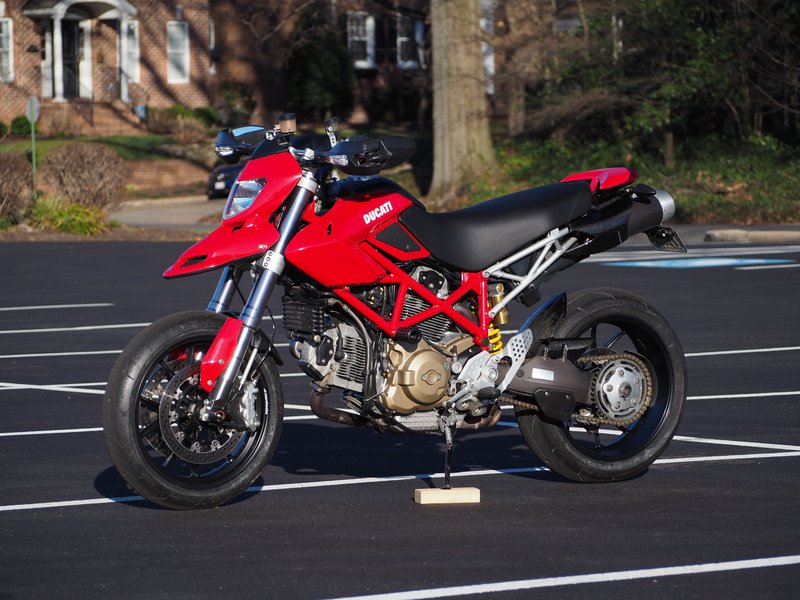 VIN: ZDM1YACP28B005622
15,550mi
I purchased this bike in October 2019 and put about 2,000mi on it. Fun bike, beautiful to look at, makes great noises, but the garage is way too crowded.
I've purchased a number of accessories as detailed below, and all maintenance is up to date. The valves were adjusted at 15,344mi; I found one exhaust opener gap to be out of spec and several others at the limit. All were brought back into spec with new shims. The paint on the engine has begun flaking (a seeming common problem on these; another Ducati I had did the same thing), and there's some corrosion on the shock body. Otherwise it's in very good condition, with some small scuffs commensurate with age. To the best of my knowledge it's never been horizontal.
services and accessories
New Continental ContiSport Attack tires - 2021/02
Speedymoto front and rear axle sliders - 2020/07
Brake, clutch fluid change - 2020/07
Timing belts - 2020/07
Spark plugs - 2020/07
Valve adjustment - 2020/07
Repaired low fuel sensor - 2020/07
GPR v4 steering damper - 2020/06
Evotech Performance heel plates - 2019/11
Speedymoto frame sliders - 2019/11
Evotech Performance tail tidy - 2019/11
Brake, clutch fluid change - 2019/11
Rear brake pads - 2019/10
Battery - 2019/10
Rear tire hugger/mud guard
Heated grips
Heated gear hookup
Eastern Beaver 3CS relay-switched accessory hookup
extra parts
Sargent seat
Stock seat with modified foam and aftermarket cover
Ducati rear rack
Termignoni exhaust
Decat pipe
New tail trim/cover
Stock passenger pegs
Fabbri flyscreen
All this bike needs is a new rider!
$7,000
Contact Brian at 804-476-2522 (voice or text), or by email at blalor@bravo5.org.
NMVTIS vehicle history report, 2019/10.
Many photos! Click to embiggen.