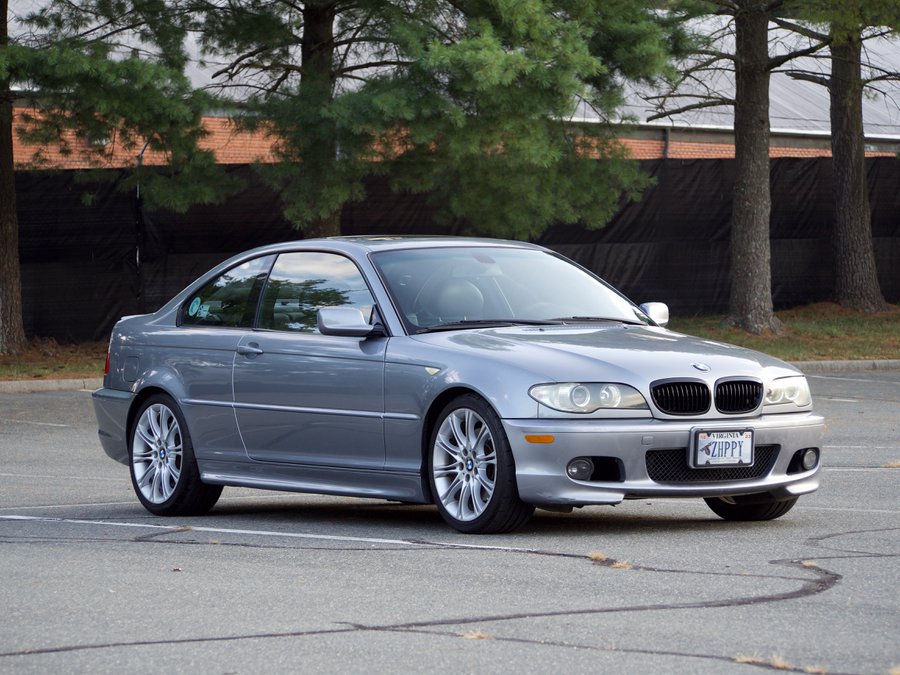 VIN: WBABD534X4PD98162
136k miles
3.0L M54 inline-six
Six-speed manual transmission
ZHP Package
Silver Gray Metallic
M3 interior, Nappa leather
Shadowline Trim
18" M Double-Spoke wheels
Dynamic Stability Control
Koni Yellow shocks, adjustable
Rear sub-frame reinforcement
Glass Sunroof
Adaptive Xenon Headlights
Automatic Climate Control
This 2004 BMW 330Ci coupe is finished in Silver Gray Metallic over black Nappa leather and is powered by a 3.0-liter inline-six paired with a six-speed manual transmission. The car is equipped with the ZHP Performance Package, which added revised aerodynamic bodywork, sport suspension, a slightly-shorter final drive ratio, along with increases in horsepower and torque. Additional features include 18" Style 135M wheels, an electric sunroof, xenon headlights, Harman-Kardon sound system, and navigation. Modifications include rear sub-frame reinforcement, and seats and trim from an E46 M3. The car was delivered new in Georgia, and spent time in Texas and Tennessee before I bought it in February 2014, bringing it briefly to Massachusetts and subsequently Virginia. Work performed under previous ownership includes the replacement of the cooling system, belts, idlers, and tensioner. This ZHP coupe has ~136k miles and is now offered for sale with manufacturer's literature, service records, spare parts, a clean Carfax report, and a clean Virginia title in my name. It is currently located in Richmond, VA.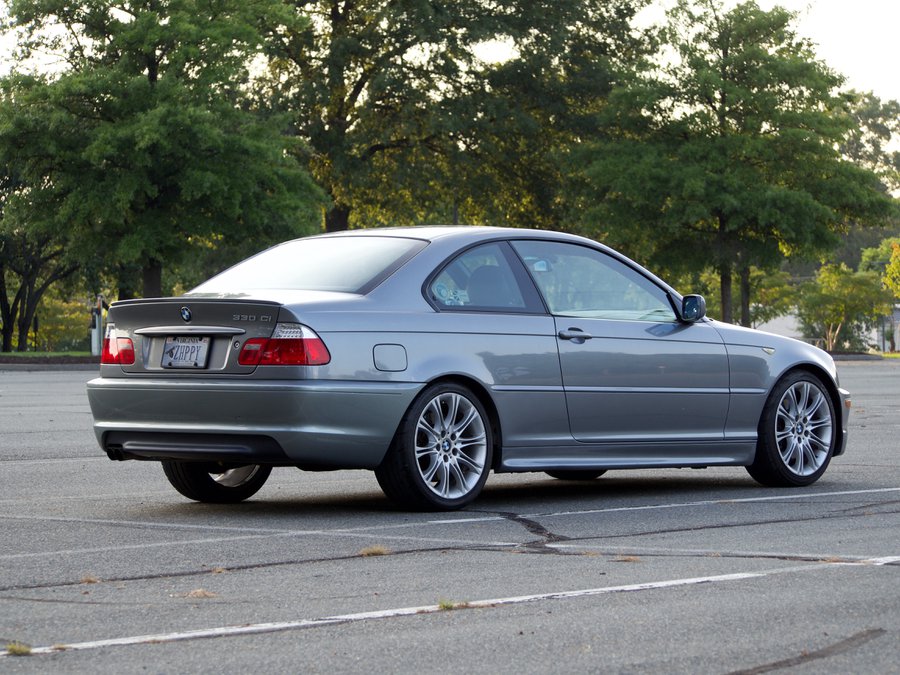 Additional features include adaptive xenon headlights, fog lamps, an electric sunroof, dynamic stability control, and rain-sensing windshield wipers. There are scrapes underneath the front bumper, rock chips on the hood, faded mirror trim, and peeling clear coat on the front bumper. Detailed photos showing these and other imperfections are included below. Additional modifications include Koni Yellow adjustable shocks, the complete interior and piano black trim from an E46 M3, and black kidney grilles.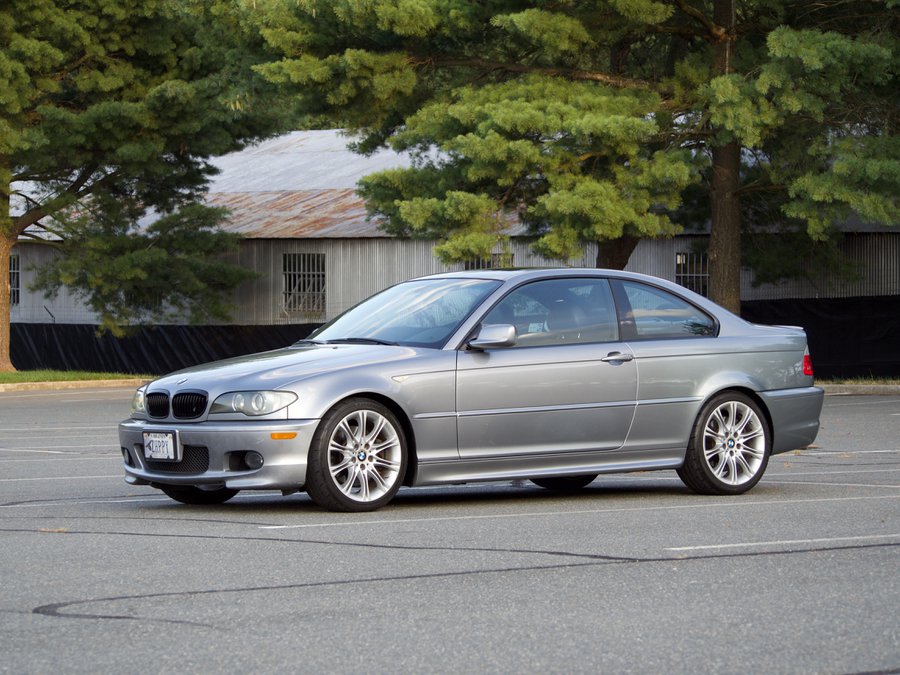 OEM 18" Style 135M wheels are fitted to the car, wearing Firestone Firehawk Indy 500 tires fitted in 2018. The right rear tire was replaced in February 2022 due to an unrepairable puncture. Tread life is excellent all around. One wheel shows curb rash, and all four have minor imperfections from mounting. The rear windows open outward via switches on the center console. The driver's side rear window rattles slightly when open. Both door windows are slow to drop when opening the door, causing the windows to touch the trim; pausing briefly between unlatching the door and swinging it open prevents that from happening. Previous damage from a poorly-adjusted passenger-side window can be seen on the trim.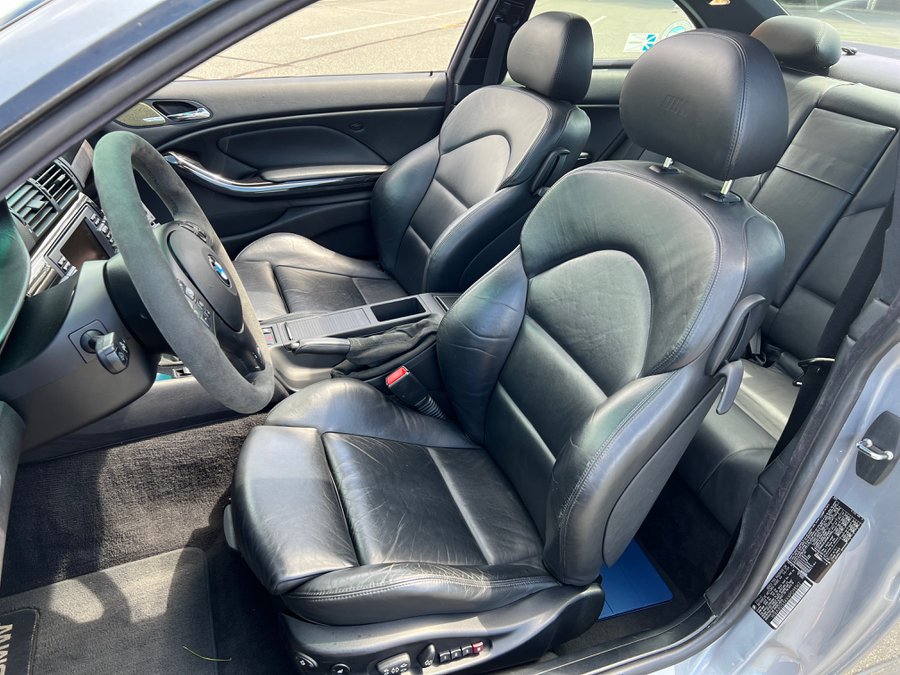 The front and rear seats, dash and console trim, and door cards and interior panels are from an E46 M3. The original seats were leather, not Alcantara. The driver's seat bolster is in excellent condition with minimal wear. There are minor scuffs and marks on the passenger and rear seats, and on the panel below the driver's side rear window. Carpets are in excellent condition. The driver's side floor mat shows some wear. The front seats contain heating elements, but are not connected, as the car did not originally have heated seats. An additional button panel with seat heater controls is included with the vehicle.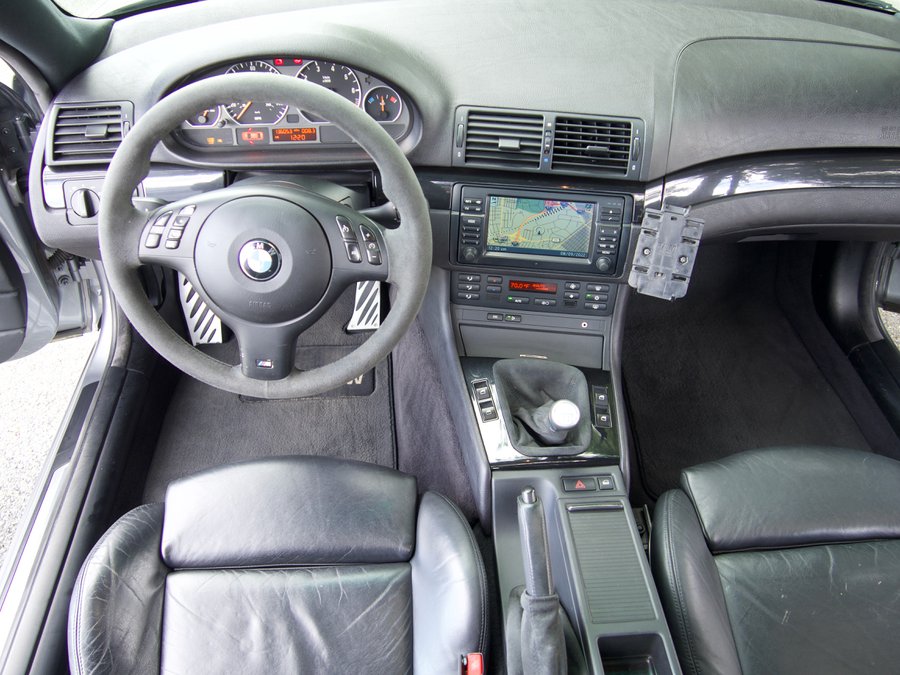 The cabin features power-adjustable front M3 sport seats trimmed in black Nappa leather along with an anthracite headliner. Piano black trim accents the dash, center console, and door panels. Amenities include automatic climate control, cruise control, a BMW Business CD player, a Harman Kardon sound system, and navigation. Rubberized aluminum pedal covers are fitted. The instrument cluster sports orange needles and aluminum trim around the speedometer and tach dials. The steering wheel is wrapped in the original Alcantara suede-like fabric, which has recently been cleaned and is in very good condition. The air conditioning blows cold and without any smells.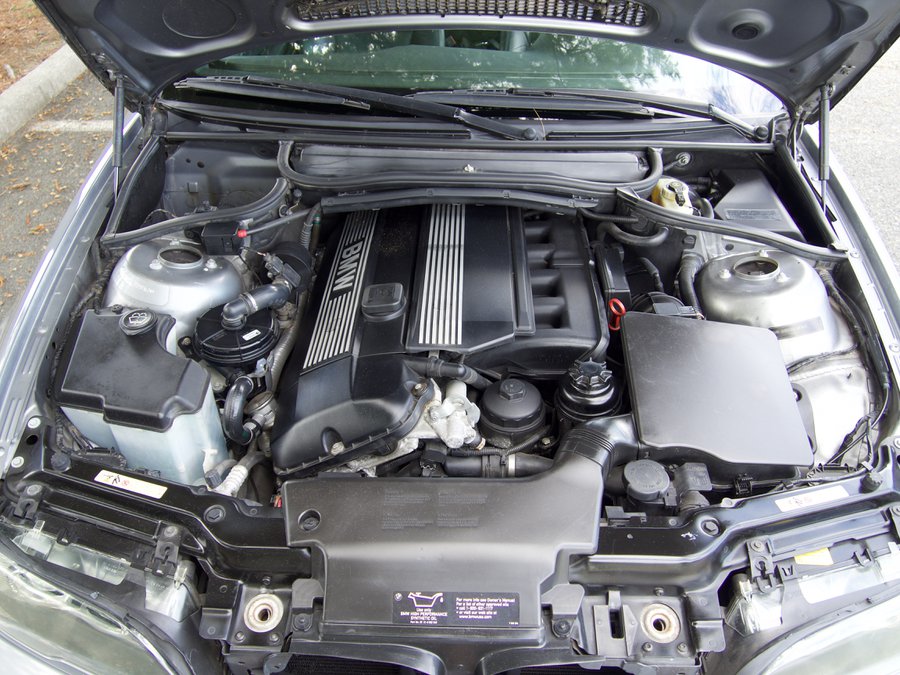 The original 3.0-liter M54 inline-six features upgraded engine management software and camshafts as part of the ZHP package; this raises the factory output to 235 horsepower and 222 lb-ft of torque. There is a minor oil leak that appears to be from the oil pan or filter stand; no oil appears under the car even after sitting for an extended period, but the bottom of the engine and transmission are damp.
Service History
March 2014

shocks F&R, including all mounts
front control arms
front control arm bushings
installed rebuilt steering rack with new tie rods
stainless braided brake lines, clutch line
rear axle shaft seal
idler and tensioner pulleys
changed diff & trans fluids

July 2015: Airbag recall
November 2016: starter replaced
June 2017: Rear subframe repair and reinforcement, performed by Wile Motorsport
June 2017: Airbag recall
March 2018: New battery
April 2018

Brake rotors replaced
Replaced tires

August 2019: Replaced radio receiver
January 2021

Replaced brake pressure sensor
Replaced secondary air pump and valve

September 2021: Airbag recall
February 2022: Replaced damaged right rear tire
July 2022

Replaced windscreen
Clear-coat repair
Replaced headliner, A, B, & C pillar trim
Asking $14,000.
Contact Brian at 804-476-2522 (voice or text), or by email at blalor@bravo5.org.
CarFax history report, August 2022
Video Gallery
Many photos! Click to embiggen.
Exterior
Interior
Undercarriage